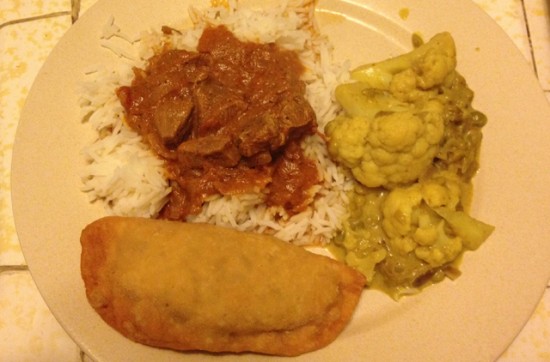 Beef Curry on Basmati Rice, Curried Cauliflower/Green pea and Vegetable Samosa
I've been threatening to try making a traditional Lamb Curry for a while now and the mood hit today to try something close to that.  I used lean Stewing Cubed Beef and it turned out very close very close to what I was looking to create.  This makes a pretty big batch of curry btw, so plan on leftovers or feeding 6 to 8 people.
Ingredients
2.5 lbs Cubed Beef or Lamb
1 medium Onion
2 large chopped Tomatoes
1 small can Tomato paste
1/2 cup Greek or Indian Yogurt
5T Vegetable Oil
1 quart Vegetable Broth
Spices Group 1
2 to 3T fresh Ginger & Garlic paste
1t Turmeric Powder
2t Cayenne Pepper
1 to 2t Garam Masala
1t Coriander Powder
1t Cumin ground
Salt to taste
Black Pepper ground – 2 to 3t depending on taste
Spices Group 2
Cinnamon Stick – 1 inch
Whole Cloves – 3
Bay Leaves – 2 to 3
1t Sugar
Directions
Marinate the meat in the yogurt, 1t cayenne and 1t salt, ideally for 4 hours, can also marinate overnight in the fridge.
Prep the onion, tomatoes, garlic and ginger.  I like to make thin onion slices and then cut them into quarters so the pieces are a little larger than an inch.  Chop the tomatoes.  Canned chopped tomatoes will also work.  I have a French Garlic grater that I use to create the fresh Garlic and Ginger paste: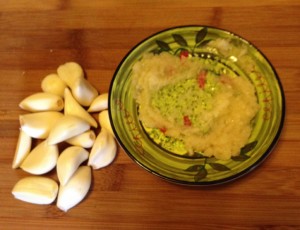 Caramelize the Onions & Spices Group 1 in the oil.  I suggest using a large cooking pot for this as you will continue to add to this pot. I like to really cook my onions down at this stage.
Add the marinated meat, chopped tomato, and broth to the cooked down onions and turn up the heat.  Cook the meat until it has browned and then you can turn down the heat.  Be sure to stir constantly to keep from burning the bottom.
Add the broth and Spices Group 2, bring up to a simmer.
Pre-heat your oven to 350.  Pour the curry into an oven safe cooking pot.  Put this in the oven and slow-cook for 1.5 hours or longer.  If you want a thicker curry and/or more tender meat then it may need to cook for up to 3 hours.  Stir occasionally.  If you need to cook it down faster, you set the oven at 375.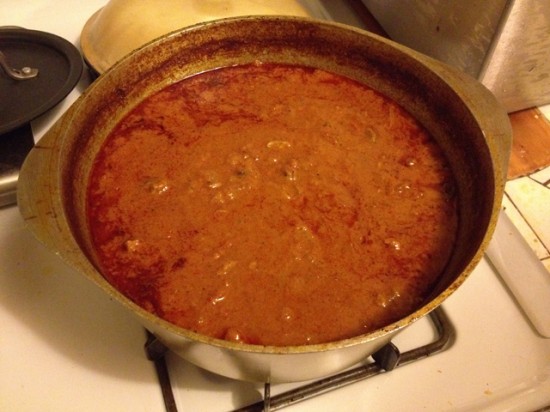 Final pot of Slow-Cooked Spicy Curry.  🙂