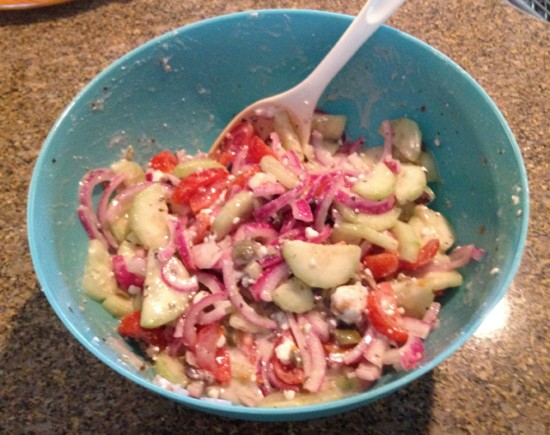 This is a great Greek Cucumber Salad that is really easy to make.  It's a very light and fresh dish that goes great with many different main courses.
Ingredients
2-3 Large Cucumbers
Cherry or Grape Tomatoes
1 Red Onion
Greek or Italian Olives
Feta Cheese Crumbles
Greek Salad Dressing – find one that has plenty of vinegar.    It will usually look like a vinaigrette.    Don't get one of the creamy looking Greek dressings.
Directions
Slice the cucumbers and tomatoes and set aside in a separate bowl.
Slice the onion into thin slices and the cut into quarters.
Slice or chop the olives.  Put as many or as few as you would like in this dish.
I like to marinate the onions and the olives in the dressing overnight, but it's not necessary.
About 2 hours before you are planning on serving this disk, mix all the ingredients together and put them in the refrigerator for the cucumbers to absorb some of the dressing.  If you make it too far in advance the cucumbers will get limp.