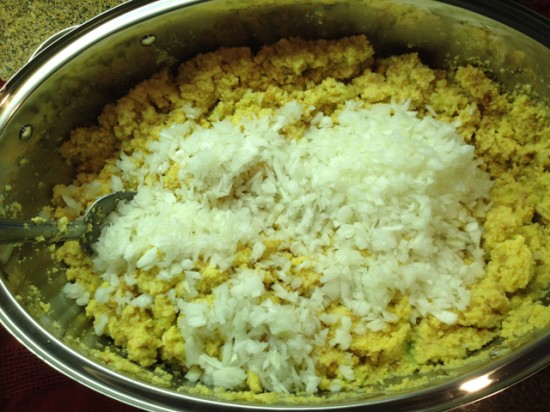 As the holiday season approaches, it's time to post the Dressing Recipe that I grew up with.  Mom always makes this one with Turkey.  Maybe I'm biased because it's Mom's, but I do believe it's one of the best traditional Dressing recipes that you will find with a really great flavor.
I'm back home in Flint, Tx this week for an early Thanksgiving dinner and I took some photo's while Mom was making up big batch.
Ingredients (1 batch usually fills one large pan, increase the volume as needed)

1 pone cornbread
4 slices light bread
Broth (can be turkey, chicken or vegetable)
1 onion chopped
celery chopped
sage
poultry seasoning
3 eggs
Directions
Break up the cornbread and bread slices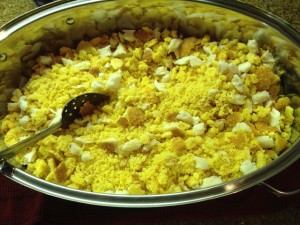 Mix in the chopped onion and celery.  If want some additional flavor, you can caramelize the onion and celery before putting them in.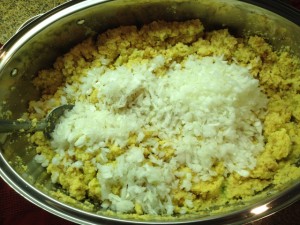 Add in 1 part hot water for every 2 to 3 parts of broth.  The consistency should be a little thicker than cake batter.
Season to taste with the sage and poultry seasoning.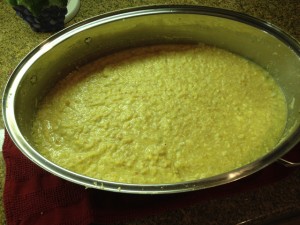 Once you have seasonings at the right balance, then add the eggs as a last step.
Pour the mixture into you backing dish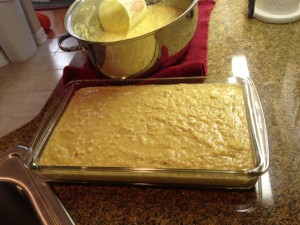 Cook for about 1.5 hours at 350 Degrees F.  About halfway through cooking it helps to slightly stir up the top of the dressing.  This will make it cook a little faster, dryer and with more of a crust on the top.